Made in PRC 450ml Paste Adhesive Spray For New Year, Advertisement
Product Detail
Product Tags
Mei Li Fang Paste Adhesive Spray is our new product which is an environmentally- friendly product for sticking Chinese scrolls, but it can also make posters, advertisment, photo and many things you want to put on the wall or other materials. In all, it can be widely used in our life and help us make convenience.
Paste adhesive spray is an adhesive applied onto a surface from a pressurized container. The color of the content is transparent without pungent smell. When sprayed out, it easily creates a consistent coat, which has strong viscosity. The easy application allows for strong bonds and fast drying so that it makes two surfaces sticky firmly together.
| | |
| --- | --- |
| Model Number | CP001 |
| Unit Packing | Tin Bottle |
| Occasion | New Year, Adevertisement |
| Propellant | Gas |
| Color | Red |
| Capacity | 450ml |
| Can Size | D: 65mm, H: 158mm |
| MOQ | 10000pcs |
| Certificate | MSDS ISO9001 |
| Payment | 30% Deposit Advance |
| OEM | Accepted |
| Packing Details | 24pcs/ctn or customized |
| Trade terms | FOB |
1.Convenient
2.One spray, one stick
3.Easy to clean
4.Strong hold on the wall or door
Glue spray is decorated with red color. It can not only help you make New Year scrolls sticky but also for advertisement, photo, brochure, the marriage use character and so on.
Spray glues can be used for bonding wood, metal, acrylic, foam, fabric, cardboard, leather, cork board, glass, foil, rubber, and many plastics.
It also works great for two surfaces, like wall and posters or advertisements,sponges, festival scolls,etc. Some spray adhesives aren't advised for use with certain specialty plastics or vinyl fabrics. Check before use with these materials.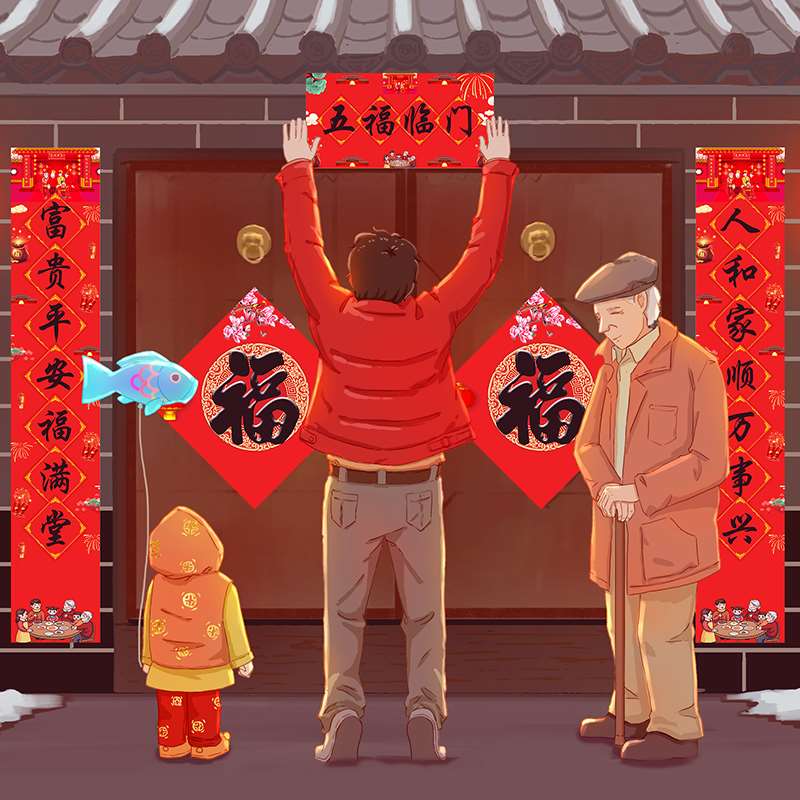 1.Please keep surface clean such as wall and door;
2.Spray on the four sides of the paper.
3.Put paper on the surface.
4.Enjoy your beautiful artworks.
Choose a well-ventilated area and a work surface with adequate space.
When you use paste adhesive spray, it will get the space dirty. So it is better for youto cover tables or benches with protective cloths or papers to avoid a mess.
Shake the spray evenly to achieve the best sticking effect.
Spray the adhesive spray 20-30cm away from the surface at a uniform speed, both sides of the paste should be spayed. Press two surfaces lightly so that sticky surfaces can be firmly fixed together.
Let it dry for about 3 minutes until the adhesive spray fully dry out (glue can not touch hands)
After using, upside down the paste adhesive spray for 2-3s, clean the remaining glue of the nozzle in case of clogging.
1.Avoid contact with eyes or face.
2.Do not ingest.
3.Pressurized container.
4.Keep out of direct sunlight.
5.Do not store at temperatures above 50℃(120℉).
6.Do not pierce or burn, even after using.
7.Do not spray on flame, incandescent objects or near heat sources.
8.Keep out of reach of reach of children.
9.Test before use. May stain fabrics and other surfaces.
1.If swallowed, call a Poison Control Centre or doctor immediately.
2.Do not induce vomiting.
If in eyes, rinse with water for at least 15 minutes.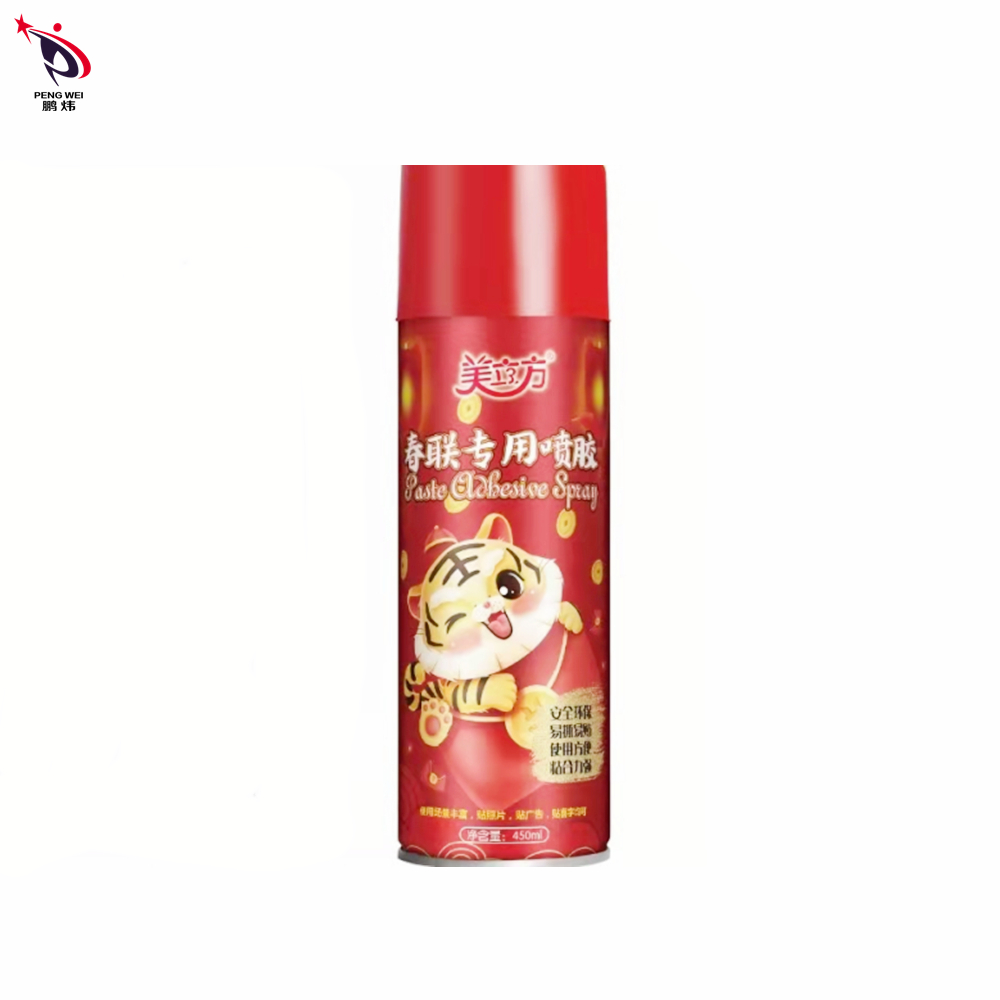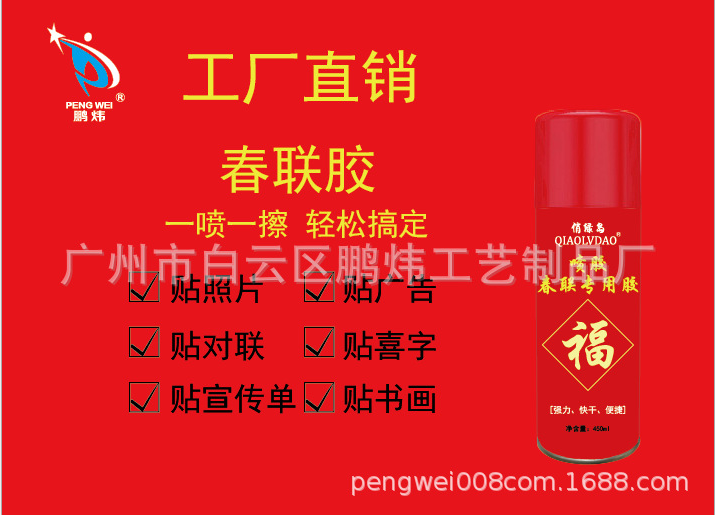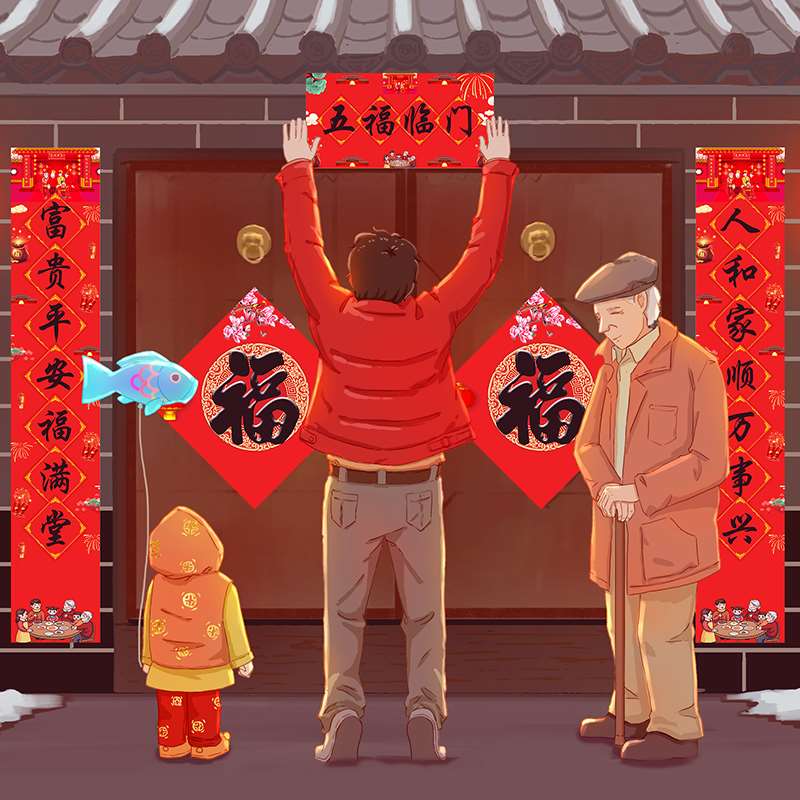 ---
---
Write your message here and send it to us